Media blogger TSB of Drums in the Global Village Blog has sent us a link to how Gary Sheffield, former Yankees Star has charged manager Joe Torre of discriminating against black players.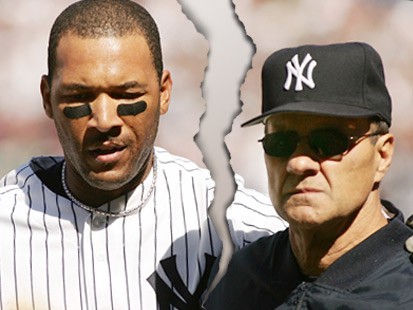 William Marra reports for ABC News: Sheffield: Torre Treated Blacks Differently
New York Yankees manager Joe Torre treats black players on his team worse than white players, controversial baseball player Gary Sheffield has charged.
"I know when I was [with the Yankees], the couple of blacks that were there, every one of them had an issue with the organization," Sheffield, who played outfield for the Yankees between 2004 and 2006, told Andrea Kremer in an interview that airs Tuesday on HBO's "Real Sports."
When pressed on who specifically within the organization black players were upset with, Sheffield said, "They had an issue with Joe Torre."
"They weren't treated liked everybody else," said Sheffield, who currently plays for the Detroit Tigers "I got called out in a couple of meetings that I thought were unfair. … [Torre] had a message to get across to the whole team, so he used me to get the message across."
When asked if he thinks Torre is a racist, Sheffield said, "No. I think it's the way they do things around there. Since I was there, I just saw that they run their ship different."
HBO confirmed the quotes to WABC-TV, an ABC-owned station in New York.
When Kremer told Sheffield that "The Yankees' most prominent player is black," referring to shortstop Derek Jeter, Sheffield replied that Jeter is not "all the way black."
"Derek Jeter used to come to me and try to tell you what Joe Torre is all about. 'He's a good man. He's this, he's that.' But like I tell Derek Jeter, 'That's you. It's one thing that they treat you a certain way; you don't feel what other people feel,'" Sheffield said.
Mark Schwarz, a correspondent and host of the ESPN investigative sports show "Outside the Lines," said Sheffield's comments will likely spark controversy — but perhaps that's intended. He speculated that Sheffield's recent media comments may be driven in part by a desire to encourage sales of his recently released book, "Inside Power."
"Whenever you deal with race … you're going to get into some very uncomfortable territory," Schwarz said. "Whether he's absolutely right about any of it, people are going to view him as a guy who needs to shut up."
In the interview, Sheffield denied ever taking steroids, even though he has admitted in grand jury testimony to using steroid cream on his legs and liquid under his tongue.
"I don't care what anybody says. Steroids is something you shoot in your butt … period," the former all-star said.
Sheffield also implied that Barry Bonds, whom he said he had a falling out with, has taken steroids.