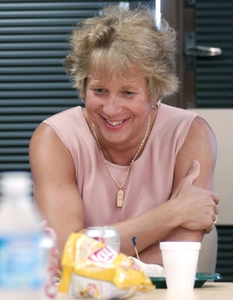 Advocate.com reports how a previously fired transgender executive was not picked for a new job.
Steve Stanton was fired as city manager in Largo, Fla., two months ago after announcing his plans to become Susan Stanton. On Wednesday, Stanton, wearing a white skirt, pumps, and makeup, applied for the top job in Sarasota, a cosmopolitan Florida tourist town, and was turned down. The Sarasota city commissioners picked another one of the five candidates. Stanton was their third choice. "It's just too soon. It's too soon for a transgendered city manager…. I just don't think the world is ready just yet," the 48-year-old Stanton said as she made a hasty exit from City Hall.
Commissioner Ken Shelin disagreed. Shelin said the determining factor was the winning candidate's "quiet leadership." Stanton "made it into the top three," Shelin said. "She got serious consideration. She made, clearly, a very strong impression on all of us. There were favorable comments from all the commissioners."
Earlier this year, the Largo city commission voted 5-2 to fire Stanton from the $140,000-a-year city manager's job after 14 years of generally excellent evaluations. Hundreds of people for and against transgender rights packed the chambers to voice their opinions, and dozens of police officers were posted to keep the peace. In the end, commissioners said it was Stanton's judgment and honesty, not his impending sex change, that prompted their decision. Things were much calmer in Sarasota, about 50 miles south of Largo on Florida's southwestern coast. Largo, with a population of 76,000, is a working-class community in the Tampa Bay area. Sarasota's 54,000 residents are generally more affluent, and it has a thriving arts scene.
Sarasota is the home of New College of Florida, where the 750 students take classes without grades and design their own curriculum. The city is also home to the John and Mable Ringling Museum of Art, which has a collection of Old Masters bought by the circus tycoon.
Sarasota is also where Stanton spent much of her secret life as Susan before going public, spending several weekends a year there dressed in women's clothing.
"We need to put a little pepper in the atmosphere," said Sarasota resident Gwen Calloway, 70, who supported Stanton. "She has the background. She can start running instead of walking. She has proved she's accomplished." The five candidates for city manager were interviewed separately at an open meeting, during which no one spoke against Stanton. A few police officers watched over the few citizens who sat through the job interviews. The commissioners hesitated to bring up the one topic on nearly everyone's mind Stanton's plans to undergo sex-change surgery someday soon and complete the process started when Stanton recently began living as a woman. So Stanton brought it up.
Stanton said that having a transsexual city manager would not be as disruptive as they might think. She said that the recuperation time for a sex-change operation is minimal and that, if hired, she would step back from the national spotlight. "It's a legitimate concern, and hopefully I've addressed it," Stanton, who has started hormone therapy, said in her somewhat deep voice before the vote. "I have taken the initiative to throw it out and maybe remove it from the table." The five commissioners ultimately voted to hire Robert Bartolotta, 59, who resigned as city manager of Jupiter in 2004 to care for his terminally ill wife. She has since died. Their second choice was Marsha Segal-George, 54, a deputy chief administrator in Orlando.
Stanton said before the vote that she did not believe the sex change would be a factor in the city's decision. And she said many residents stopped her to express support as she explored the city in the days leading up to Wednesday's vote. "Not a single person has focused on what I wear, the type of shoes I have on, or the type of necklace I am wearing. It's just not an issue," Stanton said before the vote.
Stanton, the father of a teenage son, said the intense media scrutiny made the Sarasota interview cumbersome. A scrum of cameras and reporters made her easy to spot at a crowded Tuesday night reception for the candidates. A photographer followed her to the threshold of the women's restroom. The scrutiny is "part of the price of admission," Stanton said before the vote.
"The job of a city manager, while critical, is extremely uninteresting," she added. "I am pretty confident that within two or three weeks the media is going to find something that is a real story. But not this. This is silly." (Phil Davis, A